PPE and biomass
Biomass (Biocarbon)
KATRI acquired accreditation from KOLAS in the sector related to biomass content (biocarbon content) tests (ASTM D 6866, CEN/TS 16137) for the first time in Korea in 2014.
The biomass (biocarbon) content will be analyzed by utilizing the principle that radioactive carbon isotopes exist only in the nature-originated materials.
Biomass : Raw materials for chemicals, which are created through the thermal decomposition and fermentation of
plants and microorganism, not petroleum.
Example) Including PLA (plastics made by using corns as ingredients), biopaint, and biofuel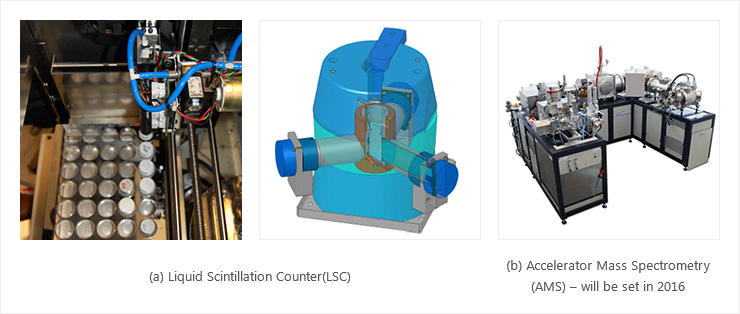 <Biomass content analyzeer>
Tests and evaluation regarding stable isotopes
Isotopes are the elements that have the same atomic number for their atoms but with a different configuration mass
number. They have an atomic nucleus with the same number of protons but with a different number of neutrons. Of the
isotopes, the ones that do not have radioactive decay, in other words, do not generate radioactivity, are called stable
isotopes.
Applicable for the analysis of stable isotopes



Applicable areas
Authenticity testing of honey
Gas, petroleum, and natural minerals
The geographical origin of down and fur
Natural environment and earth scienceg